Rock Gardens
Decorative stone provides an excellent foundation for succulents and drought tolerant plants requiring less dirt and therefore less water, also known as Xeriscaping. If you have an area that is full sun and you know gets little water, this is an excellent option for a low-maintenance solution. Some of the stones Serenescapes likes to use are; River rock, pea pebbles, lava stone, and other decorative styles.
Retaining & Free-standing Walls
Retaining & Free-standing rock and block walls can serve a decorative or sometimes necessary function. A free-standing rock wall can create an elegant division or border for your property and garden areas. Free-standing walls can also be incorporated into your walkways and patios to provide visual flow, or an extra space for seating while entertaining with friends. Retaining walls can be incorporated into a landscape either to stabilize a high erosion area, or sometimes to utilize a previously inaccessible one. Depending on the height and landscape application, we prefer to leave the final decision with the customer whether to use either natural or fabricated stone when constructing either type of wall structure.
Landscape Steps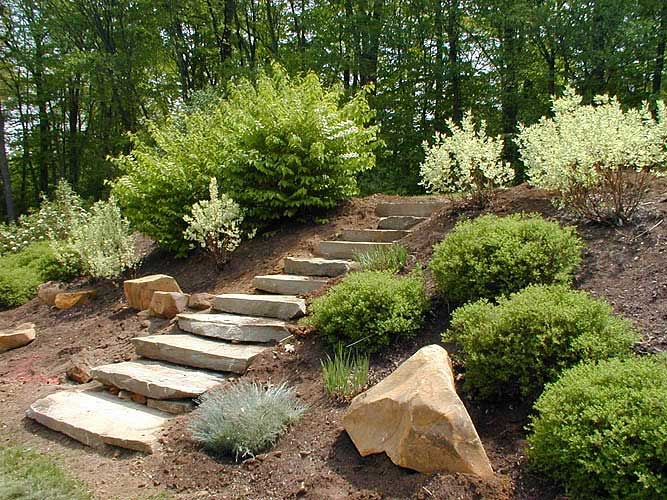 Steps provide access between elevation changes, and also unite spaces within a formal or informal garden atmosphere. Using natural rock for landscaping steps is an ideal choice because of the natural beauty, stability, and limited maintenance. Fabricated stone risers and steps are most usually incorporated into concrete or paver applications. Typically a paver patio will have paver steps leading to a similar walkway, but Serenescapes has been known to 'mix it up' depending on the gardens theme and customers request.
Paths & Walkways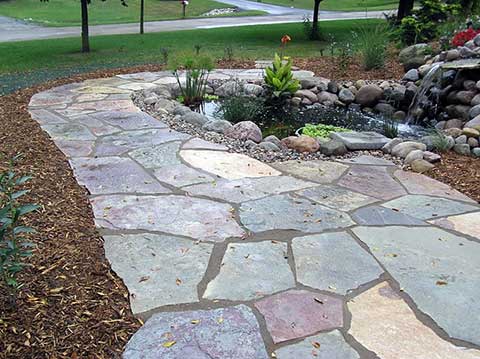 Paths & walkways serve as possibly the most important aspect of a completed garden area. They direct your way and connect all of your living spaces together. Paths & walkways can be gently rolling with a smooth natural flow, or sharp and symmetrical, such as we find in the formal English gardens. The materials that Serenescapes uses to construct them vary as much as the areas they unite. Whatever you and your designer come up with for the 'Garden Theme', Paths & walkways are a vital piece.
Patios & Outdoor Entertainment spaces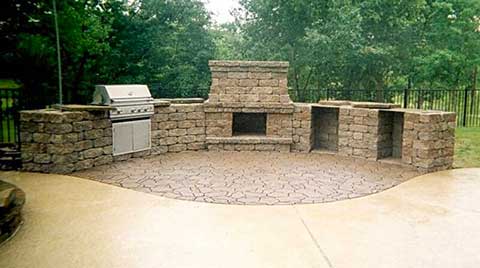 There are a variety of hardscapes suitable for patios & outdoor entertainment spaces. We will work with you to find the best suitable product. Concrete pavers, natural fieldstone, thermal flagstone, and bluestone are just some of the materials that can be used.
Friends and family will gather to dine, converse, or just rest. Your patio becomes the focal point for outdoor entertaining. There are countless ways you can enhance your patio area to make it a more inviting entertainment space. Some of our favorites to install are; Fire pits, Cooktops, Refrigerators, Arbors, Fireplaces, and Water Features. Just consult with your designer to find out what will work best for your entertaining style.