Using design elements and plant choices that thrive in Virginia, we will design a unique landscape to delight your senses. With over 14 years in the landscape and nursery industries, we use this experience to draw up a responsible landscape design.
Preparing a Landscape Plan
The first step in developing a unique landscape design is to find out how the intended area will be used. A beautiful landscape design or garden begins with your dreams. We will meet with you and help develop your initial ideas by engaging you, listening to your likes and dislikes, and collaborating with you to create your dream landscape.
Our design philosophy is that the final scaled landscape plan you receive should convey your landscape ideas in a "road map" that will be used to transform your house and yard into a lovely home and entertainment area. We take the time to explain the layout of the blueprint design and adjust the landscape gardens, patios, decks, water features, and other elements to match your desire. The landscape garden design process is extremely important — this is not a step you should bypass.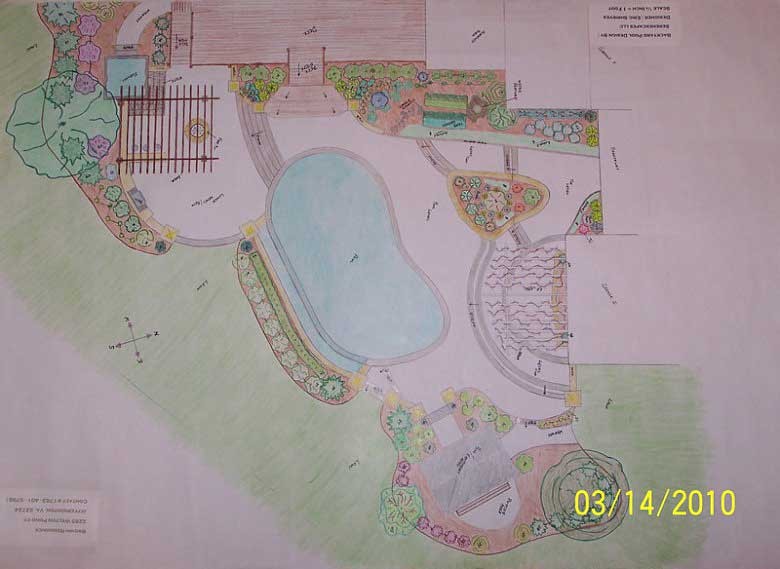 Your landscaping budget is best spent on the actual landscape installation. We apply 50% of the design investment to your landscape installation. When Serenescapes moves forward with the installation, half of that design fee is removed from your contract.
Garden Landscape Design Ideas
During this design period, we ensure communication of details and clarify expectations. We will offer suggestions from an artistic point of view, but ultimately you will determine the look and feel of your landscape design.
Once our landscaping blueprints meet your expectations, we will submit our proposal to implement the design. From this point we can move forward and work on packaging and phasing options. We use the same proposal process whether we are designing an English garden, a secret quiet space, or a full scale entertainment space. We make sure we are clear and that you understand what the scope of the project will be. We also make sure our estimates are fair and that we prepare a design that will stay within your budget.
Are you looking for an inexpensive landscape? Not all garden and landscape construction projects require a design. Some design elements may only require a project sketch. If the landscape design blueprint is not needed, we will certainly bypass this step.
Landscape Design in Virginia
We are fortunate to live in Virginia. Landscape design is easily enhanced by the natural beauty of this region. The mountains and country that exist around us is a perfect backdrop for an exquisite landscape design or home garden.
We are a professional landscape design company servicing Albemarle,  City of Charlottesville, Culpeper, Fauquier, Fluvanna, Greene, Louisa and Orange Counties. From the beginning of the design process through the installation, we have licensed and certified staff personnel who are trained to respond to the particular needs of your project.