The four types of water features used by Serenescapes are Waterfalls, Ponds, Fountains and Cisterns. Whether it is the soft sound of a landscape waterfall flowing into a pond or the glint of sunshine reflecting off the wet rocks, life is a little more serene when you can sit by the water. Watching the birds frolic in your fountain, or watering your home garden from the rainwater harvesting cistern, much of your relaxation time can be spent enjoying your water feature. We also offer the option for natural streams and dry creek beds these tend to fall under our waterfall section.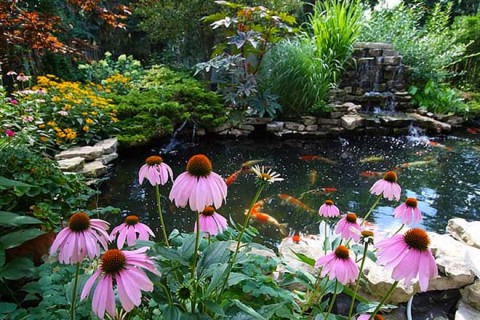 Ponds
A body of water has a naturally calming effect. Imagine coming home after that rigorous day at work. You step outside onto your patio, walking down the pathway, and sitting quietly with a cool drink. You look over the water and see the Koi swimming carelessly while the birds drink by the water's edge. Suddenly you are in a different mindset. Your tranquil space! Serenescapes will help you design, and install a custom pond for your 'back yard oasis'. With many different sizes and options, ponds are affordable on every budget.
Waterfalls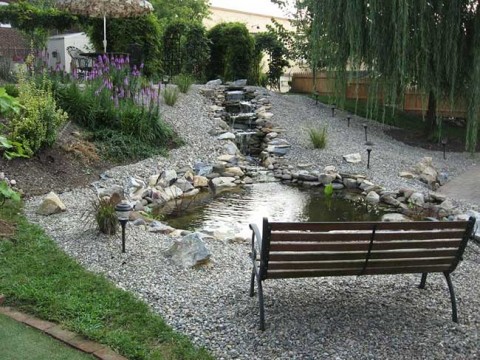 Ponds are great, but you have to supply water. How better, than with the natural feel of a waterfall. Imagine as you sit by your pond and watch the Koi swim, you are listening to the trickling of water over the rocks into the pond. Waterfalls are the accent piece for any landscape. Let's be clear though, you need not have a pond, in order to have a waterfall.
Some of the most exciting waterfalls Serenescapes has designed and installed are self-contained with no visible water source. Let us work with your space and bring the sight and sound of flowing water. Natural streams and dry creek beds are another option to incorporate into your garden space. If you have an area that tends to wash out during heavy rains, a dry creek bed with some native and evergreen plantings would help to solve those issues.
Fountains
Fountains are truly the affordable water feature. You can still bring that sight and sound of water to your space, without dedicating a large area to it. Fountains are like cars though, so make sure you take your time and pick the one that fits your style. Serenescapes has many vendors that we buy high quality fountains from, so you can choose from a large range of sizes, shapes, and designs. In comparison to the previous water features, fountains are by far the most bang for your buck.
Cisterns
Cistern is nothing more than a Latin word for a "water container", and they have been in use for thousands of years. Serenescapes incorporates many types of Cisterns, from rain barrels to large storage tanks buried underground. Depending on the water amount needed for your particular application, we can design a system to supply them. More commonly known as rainwater harvesting systems, our most popular type is the simple gravity-fed rain barrel. If you have greater water needs, we can set up a pump driven rain harvesting irrigation system. If we look honestly at the water future, it is far from promising. We don't say this as a scare tactic. Serenescapes is a knowledge-based company and we want our customers to be as environmentally reliant as possible. If you are ready to make an investment in your home's future water source, please consider one of our systems.